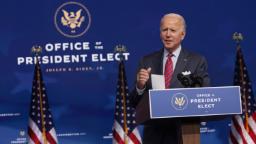 Five new co-chairs had been named Monday to assist with the Biden Presidential Inaugural Committee.
Led by South Carolina Rep. Jim Clyburn, a key ally of President-elect Joe Biden, the brand new committee members embrace:
Michigan Gov. Gretchen Whitmer
Los Angeles Mayor Eric Garcetti
Delaware Rep. Lisa Blunt Rochester
Louisiana Rep. Cedric Richmond
"Kamala and I are honored and grateful to these leaders for joining our inaugural committee as co-chairs and helping to organize a safe inauguration for all Americans," Biden said in a statement.
"These leaders reflect the strength, spirit, and diversity of America and have always held a steadfast commitment to restoring the soul of the nation, building back the middle class, and unifying the country. We are proud of their support and know they will help plan an inauguration that will reflect our nation's shared values."