2023-01-24 18:03:15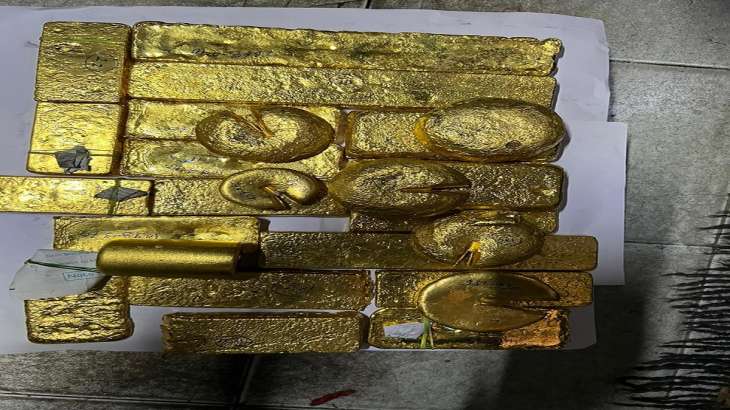 36kg of gold seized: The Directorate of Revenue Intelligence (DRI) Mumbai has successfully foiled attempts of organised gold smuggling through air routes and recovered more than 36 kg of unaccounted gold worth Rs 21 crore at various stages of processing on Tuesday. 
According to the statement released by the DRI, the incident came to light during the course of an investigation related to various cases of smuggling of gold through the airport and Air Cargo Complex, Mumbai. Subsequently, a specific intelligence was developed by the officers of the DRI, Mumbai in order to nab the Indian and foreign nationals involved in the processing and distribution of smuggled gold. 
Hawala transactions used in smuggling
Further, in the statement, the department claimed that the smugglers used the traditional method of collecting hefty payments. The officials involved in the operation also busted a gang involved in Hawala transactions. Notably, the hawala system refers to an informal channel for transferring funds from one location to another through service providers.
"A discreet surveillance was mounted by a team of DRI officers on the travel pattern of a few foreign nationals and suspected Indian nationals to bust the syndicate," according to the statement. 
"On Monday, working on the intelligence, a well-timed and coordinated operation was planned and executed by the officers of DRI Mumbai. A thorough search of the premises led to the recovery of more than 36 kg of unaccounted gold at various stages of processing," it said. "On getting the gold valued, the gross value is approx Rs 21 crores," it added.
Indian and foreign nationals involved
According to the DRI, the person in charge of the premises confessed that he had obtained the gold from various individuals including foreign nationals in the form of capsules carried through body concealment, through travel bags, through clothes layering and also through different types of machines. The person was also found in possession of unaccounted cash of more than Rs 20 Lakh.
During the course of interrogation and investigation, it was further revealed that the gold was delivered to various domestic players on daily basis based on the codes being operated by the syndicate. As of now, the officials said that a person has been arrested in the case and added a further investigation into the case is underway. 
Also Read: Kanpur: Robbers dig tunnel, loot gold worth 1 crore from SBI branch

#DRI #foils #attempts #gold #smuggling #seizes #gold #worth #crore #Mumbai

Source by [tellusdaily.com]