2023-01-24 22:55:49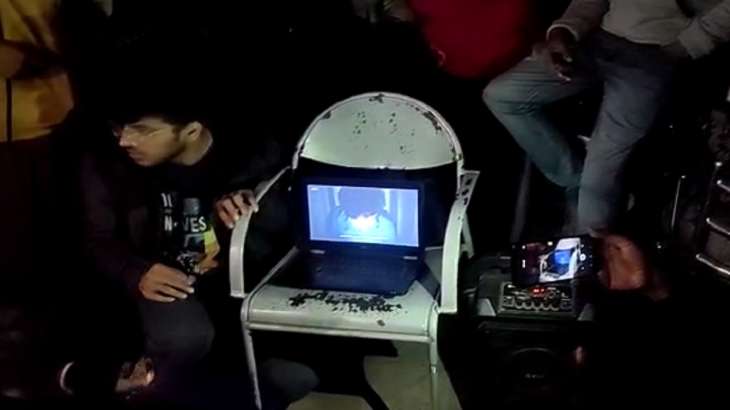 BBC documentary controversy: Amid the controversy that erupted following the release of a documentary on Prime Minister Narendra Modi, some students of the Jawaharlal Nehru University on Tuesday watched the documentary on their personal devices even though the administration cut the power supply and internet.
According to reports, a group of Akhil Bharatiya Vidyarthi Parishad (ABVP) students allegedly started pelting stones at those screening BBC's documentary on their personal devices. 
This came a day after a group of students announced a special screening of the controversial documentary released by UK-based media, BBC. The documentary titled- "India: The Modi Question", allegedly showcased PM Modi in a bad light and questioned his alleged role in the 2002 Gujarat riots. 
"Mission successful"
Earlier on Monday, the University administration ordered to cancel the special screening, saying "it could hamper the law and order situation on the campus".
However, students protested against the order. Subsequently, on Tuesday, the administration cut the electricity and internet connection. 
While speaking to media persons, Aishe Ghosh, president of the Left-backed Students' Federation of India, said that the mission was successful as the students had already watched the documentary. The students have also apprehended an alleged ABVP student named Gaurav. Some students alleged that Gaurav had pelted stones when they were watching the documentary. 
MEA calls it a 'propaganda piece
Earlier last week, India condemned the documentary series on PM Modi and described it as a 'propaganda piece' designed to push a discredited narrative. "We think this is a propaganda piece designed to push a particular discredited narrative. The bias and lack of objectivity and frankly continuing colonial mindset are blatantly visible," External Affairs Ministry spokesperson Arindam Bagchi said during a weekly media briefing.
Earlier on Saturday, the University of Hyderabad (UoH) showed the first episode of the documentary to nearly 200 students on campus. Subsequently, a probe will be initiated on receiving a written complaint, said police officials. 
Also Read: 'May disturb peace in University': JNU cancels screening of BBC documentary on PM Modi

#JNU #students #watch #banned #BBC #documentary #Modi #attacked #stones #VIDEO

Source by [tellusdaily.com]